Pera Ensemble & l'arte del mondo
With our project Carneval Oriental we would like to bring music from Venice, France and Constantinople to life. Masked balls, carnivals, dances and ballets. Carnival in Venice and Istanbul. The dream of the Orient - a musical encounter. Alla Turca as a new sound culture for our days.
This extraordinary project represents a musical symbiosis between Orient and Occident. The Pera Ensemble, which was awarded the Klassik Echo 2012 (Classical Music without Borders), has already proven several times with its projects that the Orient and Occident have a lot in common musically.
Oriental scents surround baroque melodies, Italian ornamentation embraces Ottoman melismas:
Cultures on the threshold of the baroque age meet in a musical way. The passion of the passacaglias, dances and canzonas is just as compelling as the colourful compositions from the Sultan's palace.
Carneval Oriental is an inspiring encounter of oriental and European instruments, crowned by virtuoso solo singing.
Venice, Serenessima, Versailles, absolutism, a king who dances, pompous parties, operas with exoticism, costume parties, masked balls, religious wars, fear of the Turks, the High Gate, the noble Turk, Alla Turca and CARNIVAL. This is how one could briefly describe the Baroque.

Weilburger Tageblatt July 2019
"A baroque ensemble and one that plays Ottoman music with Turkish and European instruments, and then they also start improvising and playing jazz. Is that possible? And how it works! [...] 
Conclusion: A extraordinary concertwhich has not yet been heard at the Weilburg Castle Concerts. More of this please!«, das man so bei den Weilburger Schlosskonzerten noch nicht gehört hat. Bitte mehr davon!«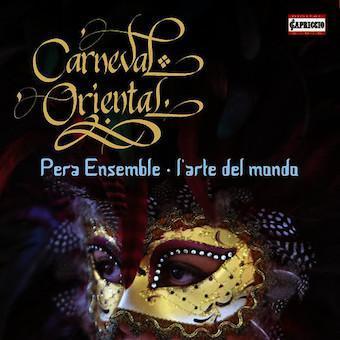 CD released by Capriccio
Pera Ensemble l'arte del Mondo Musical direction Werner Ehrhardt & Mehmet C. Yesilcay