musical director, oud, colascione
Born in Istanbul in 1959 and raised in Munich, he has earned a reputation as a distinguished performer and musicologist through worldwide performances as well as extensive music recordings.
For 30 years, as a musician, researcher and ensemble director, he has passionately devoted himself to the musical repertoire of the Orient and Occident, ranging from the 10th to the 19th century. His work, characterized by lively emotion and creative vitality with its cross-border character, emphasizes on the one hand the diversity of the different musical and cultural worlds. At the same time, however, he emphasizes existing commonalities and makes the musical exchange between Orient and Occident the focus of his work. As an expression of European interest in the Orient, especially the culture of the Ottomans and their influence on art and culture, it, referred to as "Turquerie" or Turkish fashion, became widespread in Europe from the 16th century onwards.
With his own works, such as the settings of poems from Johann Wolfgang von Goethe's "West-Eastern Divan," Yeşilçay also appears as a contemporary composer. His operatic pastiche and programs such as "Café-Orient meets Occident," "Baroque Oriental" and "Jerusalem" have a shining effect for the dialogue between cultures. In 2016 the world premiere of his symphonic poem "DIASPORA- Lieder aus der Fremde", a composition for large orchestra and Turkish instruments, was performed by Staatsphilharmonie Rheinland-Pfalz.
A project conceived by Mehmet C. Yeşilçay entitled "Music for the One God" - the three monotheistic world religions of Muslims, Jews and Christians in the mirror of their music, with works by Hildegard von Bingen, Bach, Vivaldi and Pergolesi, Byzantine and Armenian church music, Aramaic chants, Sephardic Jewish synagogal music and Sufi music - attracted particular attention. "Music for the one God" has been performed several times, including at the World Heritage Hagia Irena in Istanbul, as well as several times at the Philharmonie in Munich and other festivals and concert halls. Yeşilçay began his musical education at the age of six with his uncle Seyyid Nusret Yeşilçay.
He studied oud (the Arabic lute) and maqam theory, the theory of Ottoman Turkish music, with Cinuçen Tanrikorur. In complementary studies, he studied European classical music in depth. He has worked as a soloist with various ensembles such as Sarband, Concerto Köln and Hespèrion XX under Jordi Savall. In 2005 he founded the Ensemble Pera, of which he is still the musical and artistic director.
Numerous CD recordings document the work of the Pera Ensemble and Mehmet C. Yeşilçay's musical voyages of discovery, which seek to explore a wide variety of musical and cultural identities. Currently, Yeşilçay is working on several new projects such as "Hegire", a setting of poems by Goethe, Rückert and Rilke for chamber orchestra and soloists, as well as the symphonic poem for orchestra, choir and Turkish instruments, "Istanbul".
Concerts with his ensemble are scheduled worldwide, including participation in the opera project "Timur & Bayezid" June 2022 at the Handel Festival in Halle.
The Heidelberg University of Education will design and implement numerous concert pedagogical activities around Goethe's West-Eastern Divan as part of the project "Songs from Abroad," which is part of the TRANSFER TOGETHER project funded by the German Federal Ministry of Education and Research (BMBF). The Music Department developed a scientifically based best-practice model of concert pedagogical cooperation, which takes up themes and texts from the West-Eastern Divan and illuminates them in a variety of ways. Within this framework, Goethe's work is to be treated primarily musically, but also with the creation of thematic-practical references to the performing arts, as well as to literature and theater for students.
"Today, musical socialization must impart the ability to move respectfully and consciously in the field of tension between different cultures. Mehmet Yeşilçay 's work is extraordinarily suitable for such work because he manages, building on his own intercultural identity, to express artistically what a wealth of creative possibilities, but also what tensions, lie in a cross-cultural way of working. His music thus becomes not only a mirror of society, but points beyond it." 
Kathrin Schweizer Project TRANSFER TOGETHER – PH Heidelberg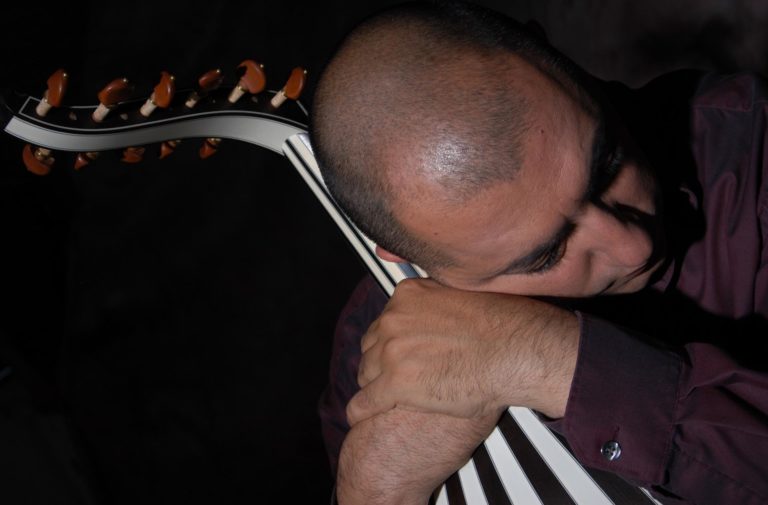 Without love, all worship is a burden, all dancing a chore, all music a mere noise.
Some of his compositions:
"DIASPORA- Songs from Diaspora. Composition for large orchestra and Turkish instruments". World premiere May 26, 2016-Staatsphilharminie Rheinland Pfalz.
Weltpremiere 26. Mai 2016-Staatsphilharminie Rheinland Pfalz
"DIVAN- Goethe connects. Composition for orchestra, choir, soloists and Turkish instruments.
World premiere October 24, 2019-Munich Philharmonic Hall.
Munich Symphony Orchestra & the Pera Ensemble, Cathedral Choir Munich.